Welcome to BayProg
A ton of resources for San Francisco Bay area
progressive rock musicians and fans.
---
Upcoming shows and events:
Garaj Mahal, Sweetwater Music Hall, Tue Sep 26
House of Floyd, Todos Santos Park, Concord, Thu Sep 28
Jethro Tull, Thunder Valley Resort, Fri Sep 29
Jethro Tull, Mountain Winery, Sat Sep 30
Burning Amp Festival, the Petaluma Community Center, Sat Sep 30
Jethro Tull, Luther Burbank Center, Sun Oct 1
Recently added events:
Pete Floyd (Pink Floyd tribute), Felton Music Hall, Sat Nov 25
Pete Floyd (Pink Floyd tribute), Mystic Theatre, Fri Nov 24
Trans-Siberian Orchestra, Golden 1 Center, Fri Dec 1
Trans-Siberian Orchestra, Save Mart Center, Thu Nov 30
Trans-Siberian Orchestra, SAP Center (San Jose Arena), Wed Nov 29
---
New Albums
Most recent albums from Bay Area progressive rock bands. The full list is here.
---
BayProg is the original regional progressive rock web site, first appearing in early 1999.
The goals of BayProg are, roughly:
To serve the needs of musicians who play in local progressive rock bands. As a musician I want to know what other bands are doing, maybe pair up with another band for a gig, find musicians for my band, and keep track of venues.
To serve the community of local progressive rock music fans by promoting concerts, finding record stores that carry prog titles, reporting local happenings, etc.
To host announcements and discussions.
To help promote progressive rock concerts.
Please enjoy! – Don
---
Do check out the latest Ken Burns documentary film: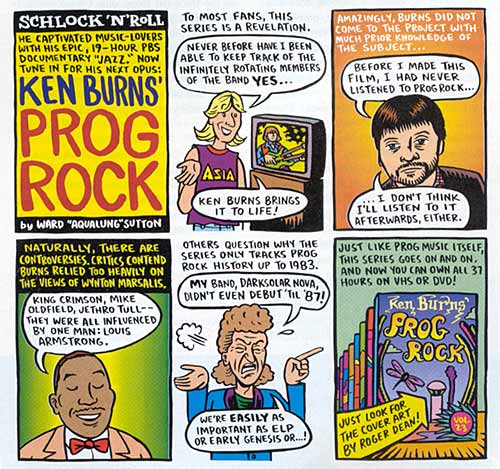 ---

The BayProg compilation CD can be found in the Spring 2002 issue of Exposé Magazine. It's called BayProg -- Progressive Rock from the San Francisco Bay Area, and features contributions from: